Window Replacement & Installation in Belmont, Massachusetts
Are you considering Belmont replacement windows? Before you buy replacement windows you have several things that you need to consider. You want to find a qualified company to help you install these windows. It's not a good idea to do this work yourself because you might run into difficulty. Before You hire any company to install your windows, you should take the following into consideration. This article looks at several different window options as well as different window brands that you might want to consider.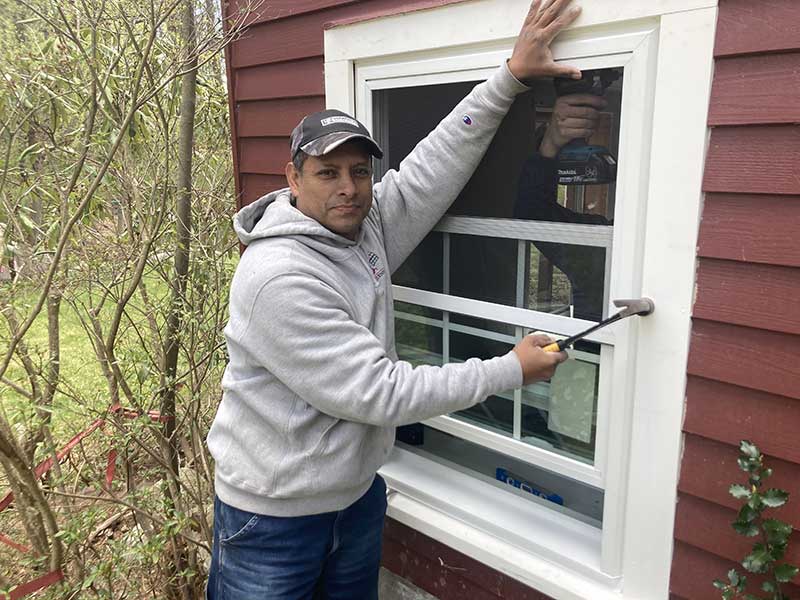 Belmont Replacement Windows
The first thing you must address before you have any sort of replacement windows installed is if you actually need replacement windows. You may find that the windows you already have just need a little bit of an upgrade until they are satisfactory. In other cases, the windows you have may not be repairable,so you'll need to install new windows such as Belmont vinyl windows or Belmont wood windows. The best idea is to speak to a contractor to determine the best types of Windows to meet your needs. Contractors have the right level of experience, knowledge, and the skill to install these windows in the right way. They can come and look at your home to determine the best type of replacement windows for you. Contractors have the right skills to install the windows or they can repair older windows until they meet your requirements. in some cases, a simple repair may be a better option than a replacement window. In other cases, the entire window will need to be replaced as the old one is simply not feasible anymore.
Easy Clean windows
One thing you're going to want to consider is easy-clean windows.  There are many Beaumont easy clean windows options that are available to you. Manufacturers today are creating windows that are much easier to clean than the windows we had in the past. Venting windows, for example, are very easy to clean. The sash piece moves along the bottom in the top of the rail pieces. the window frame opens, and the sash is the move in just the right way, so the window gets proper ventilation. the glass that is on each side of the sash is very easy to clean. There are also other easy clean options that you might want to consider. Speak to the contractor about the various window options you have and how they are to be cleaned.  You want to do as little work as possible when it comes to cleaning your windows so way all of your options before you buy.
Anderson Windows
For those that need replacement windows in Beaumont, Andersen Windows is one company you might want to consider. They feature many different window options and they have contemporary as well as modern designs that you can choose from. They also have a feature where you can design your own window which has plenty of different options, so you can find at just the right window for your needs. They have Windows in many different colors as well as styles. You're sure to find a great looking window when you buy your windows through Anderson. Your contractor will be able to install these windows for you
Pella Windows
Belmont Pella windows Is another option for you. They featured many different styles such as wood windows and other options. They have great wood windows, for example, that would be perfect for your patio doors or other areas of your home where you wish to feature a wooden window. Their Windows have excellent warranties and the windows are very flexible, so they can meet many different needs. These windows are crafted not only for their form but their function. They have an excellent fiberglass window which offers you high performance and very low maintenance. These fiberglass windows have the look of actual wood, so they can be a perfect replacement for wood windows which tend to wear out quickly. They are made with a fiberglass composite and they can withstand extreme heat as well as cold.
Marvin Windows
Beaumont Marvin windows is another solid window company to work with. They have a lot of various options. They featured single-hung windows, double-hung, casement windows, awnings, and windows that have a special shape. There's plenty of choice in the windows that this company sells. Their double hung window windows offer you ventilation options and the windows are very easy to use. Their single-hung design is state-of-the-art and it's a nice clean classic style that you might want to use. It doesn't matter what type of window you're looking for; this company has a wide range of choices to meet all your current needs.
Energy Star Windows
Many individuals are looking for Beaumont Energy Star windows because they have a concern about the environment.  When you buy this sort of window, they are both great for the environment and they will save you money. Energy Starisa program that the EPA produces. This program helps promote products that have an Energy Efficiency rating. This type of window reduces greenhouse gas emissions, so they help protect the environment. Your contractor can help you pick out windows that are more energy efficient or ones that feature the energy star rating. This could be just the perfect window option for you if you are environmentally conscious. Companies such as Pella Windows has been with the energy star program for many years and other companies are also using this rating system with their own windows.
Harvey Windows
Another option for you is Beaumont Harvey windows. The window is produced by this company have many great features like impact resistance and sound reduction which can be great options for you. They have a lot of different types of windows such as double hung, casement, gliding, single home, awning, and picture windows. Like other companies, many of the windows produced by this company feature an Energy Star rating so they can be the right choice for you.
Conclusion
Before you install replacement windows, it's a good idea to speak to a qualified contractor. You need to determine your exact needs when it comes to replacement windows. A qualified contractor can come and look at the structure to determine what might be the best option for you. There's a lot of choice in replacement windows so speak to a professional today and get a quote on options that might be best suited for your needs.