Window Replacement & Installation in Medford, Massachusetts
The practice of investing in replacement windows and having your windows replaced by a professional has proliferated significantly over the years. Windows make costly assets in your house, and if they are not replaced or serviced for an extended period, it could lower the overall efficiency of your house. Windows replacement contributes to making your house look polished and refined.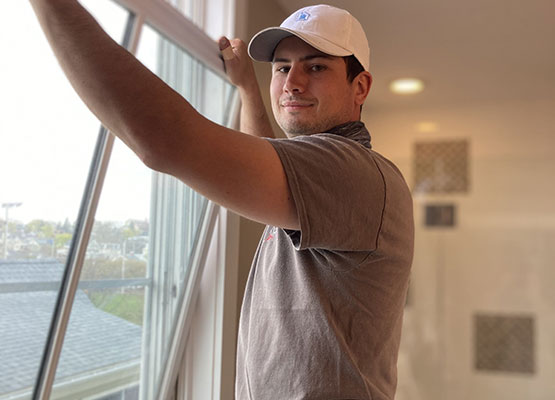 Who are we?
Jeff Fisher Windows offer exclusive replacement windows in Medford, Massachusetts. Our services are based on providing replacement windows that could optimize the overall space on your walls. Your windows should be replaced every now and then for the maintenance of their shape and overall structure.
We have become a household name for Medford replacement windows, and we cater to a broad and ever-growing base of clients with our unique and professional services. The goal of our business is geared at using innovative techniques and premium quality products for the replacement of windows in your house in Medford.
If you are looking for replacement windows—you have come to the right place. We closely work with a large number of suppliers and window companies, who endow us with replacement windows products. Our list of vendors includes Anderson Windows, Pella Windows, Marvin Windows, Harvey Windows, and Energy Star windows.
What do we do?
We at Jeff Fisher Windows consider the replacement of windows a hassle-free process. We do not consider any project too small or too large. With us, you are no longer obliged to attend lengthy sales pitches. We work with a team of professional and trained contractors, who take immense pride in being part of our team. We deliver favorable outcomes regarding Medford replacement windows.
When indulging or investing in a replacement windows project, you should be assured of the contractor you hire to do the job and the types of products he uses to replace your windows. Medford Anderson Windows and Medford Marvin Windows make two of the best suppliers in town.
Hiring a professional window installer
We provide you with a series of quotes from licensed and insured contractors, and we offer an on-site and off-site estimation for our services. Our contractors will not only suggest the types of windows suitable to your budget and lifestyle, but they also take preemptive measures to assess your currently installed windows.
Our team of contractors is equipped with the tools required for evaluating the accurate size and dimension required for the installation and replacement of the windows. We employ state-of-the-art tools to ensure a fitted and secure replacement of Medford vinyl windows or Medford wood windows in your house. Our team of contractors incontestably follows the safety installation procedures to ensure successful replacement of windows.
We Jeff Fisher Windows, believe in going a mile ahead to connect our clients to excellent Medford companies to ensure they get what they are looking for in a window. We also believe that, when it comes to window installation, you should include real numbers in your account before booking a service with us.
As a company, we provide you with negotiable estimates from contractors, excellent prices from our vendors, and an accurate description and timeframe of the project. Once our team of contractors arrives at your location, they will brief you on the measurements to take for your window replacement project. You can also reach out to us by phone to learn more about our services. We have implemented an excellent customer care service, which enables our clients to leave their queries on our page, and we reach out to them in the shortest span of time.
Reasons to choose our services:
We offer exclusive replacement windows in Medford, and we pride ourselves on our partnership with exclusive and well-renowned Medford windows companies. Whether you are looking for Medford easy clean windows or Medford Vinyl windows—we have got you covered. In addition, the following reasons should convince you to choose us for your replacement windows concerns:
We offer our clients in-home consultation services with the assistance of highly qualified replacement professionals. We want to provide our clients with the best services, and this feature showcases the height of professionalism and authenticity with our clients.
We aim to establish a trustworthy and unswerving relationship with our clients, and we are continuously evolving our strategies to determine what could yield maximum outcomes for our clients with our replacement windows services.
We provide you with complete liberty to look for product samples and options that meet your budget and style the best. We offer you catalogs from our Medford windows companies' vendor to assist you in short-listing your pick for replacement windows.
Our contractors and supplies are immersed with the knowledge of replacement windows, and they use a strategic approach for uninstalling your old windows to substitute them for replacement windows.
They are also familiar with a vast range of product knowledge, which attributes to why we are considered the best in town.
We are associated with Medford Harvey Windows, Medford Pella Windows, Medford Marvin Windows, and Medford Energy Star Windows, which are considered the best players in the replacement windows industry.
We provide a free estimate, and we preclude ourselves from charging any hidden costs or charges from our clients.
Our services and products are backed up with a reliable and unswerving warranty.
We have an active support center that enables our clients to file their complaints regarding issues with our product or services.
We also offer an installation warranty to our clients.
We work with a team of manufacturer-trained and insured contractors, who are vastly familiar with the knowledge of replacement windows.
Replacing Windows: How Do We Provide Our Services?
Jeff Fisher Windows takes immense pride in offering the best window replacement services in Medford, Massachusetts, and we have implemented a strategic and systematic approach for the replacement of windows in your house.
We have categorized our window replacement process into the following three steps:

Step 1: Selection of the window:
The selection of the window plays an imperative role in starting with the window replacement project. Shopping for or selecting a window requires:
Determining the colors and style of the windows that are compatible with your budget and house décor.
Scoring a quote and estimate with us. We will take care of assigning a contractor and vendor (supplier) on our terms. However, if you have a preference for a contractor or a Medford window company, you can inform us, and we will see what we can do.
Familiarizing yourself with the installation options of replacement windows.
Acquainting yourself with the material type of the windows that meets your criteria the best.
Having a contractor accurately measure the dimensions and measurements of your windows.
Step 2: Installation or replacement of the window:
We use state-of-the-art tools and equipment to start with the installation process of replacement windows in your house. We take care of the following things for you:
Developing a window installation and replacement schedule for you.
Prepping your walls for the installation of the replacement windows.
Sealing a particular area of your house to avoid creating any mess in unrequited spaces.
Step 3: Service and Warranty of the replaced windows
As one of the best Medford windows companies, we pride ourselves on offering a complimentary warranty to our clients that includes:
Caring for your newly installed replacement windows.
Emergency contact number in case your windows need a quick service.
The duration and life-expectancy of the windows.
Booking our services:
Looking for excellent and high-quality Medford replacement windows? Jeff Fisher Windows have got you covered with all your concerns regarding replacement windows. You can simply fill in the form on our website to book a quote with us. Alternatively, you can call us to learn more about our services and vendors in Medford, and one of our customer care representatives will be glad to assist you with your concerns. We are looking forward to serving you with your replacement windows concerns.