Window Replacement & Installation in Massachusetts
People in Boston, MA are aware of the importance of the windows in their houses. They know that without quality windows not only will it be hard for them to attract buyers, but also they will not get the protection from cold, moisture, and wind that they desire. Windows are one of the most important elements of a house. Without quality windows, you will not be able to enhance the curb appeal of the house. If your home still has old traditional windows, you are at a loss.
We all know how rapidly the world is changing. In this age of technology and advancement, there are smart windows available in the market. If you are not aware of the latest technology, there's a chance that you will not be able to generate the results that you have always wanted, i.e., a quick sale of the house or the best protection against the elements.
There are many individuals that are planning to replace the windows of their houses. The real issue arises when they have to select the window that they would like to install.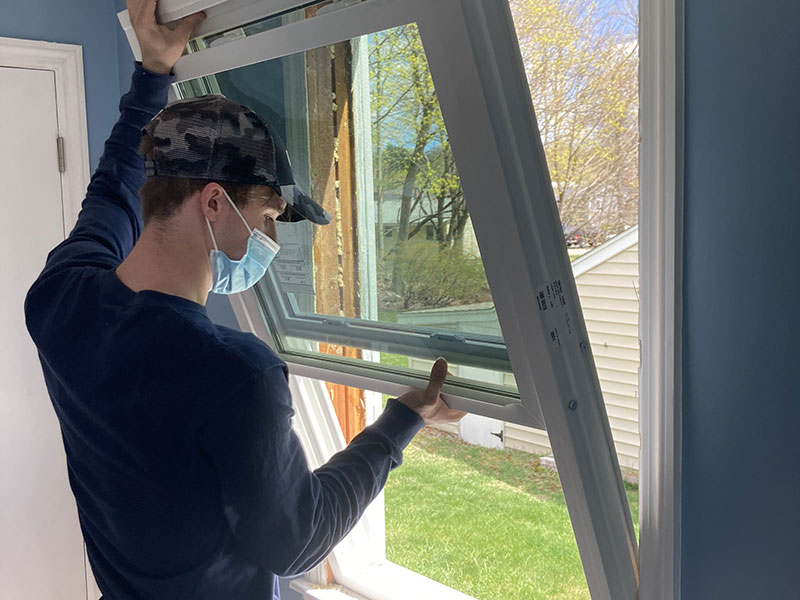 Window Contractor in Boston, MA
There are many companies available in the market that claim to have the best quality windows. However, Fisher Windows beats them all; we have a long-standing reputation throughout Boston, MA communities, have a wide selection of both vinyl and wooden windows to choose from, and are willing to offer telephone or in-person advice balancing what you want to spend with what product will provide the best benefits in that price range. A consumer buying or replacing windows in Pennsylvania always has to watch out for the substitution of lower-quality windows by some window companies that present themselves as "quality" companies. With your selection of the windows you will use, you need to be assured that you will get the best quality product because that is the only way you can enjoy the benefits that come with it. We know it can be confusing and the selection process difficult, but we're here to help. Fisher Windows has a trained professional staff to be able to offer good advice suitable to your interest and wishes. Do not worry, because whether you are looking for the Boston, MA Andersen windows or Boston, MA Pella windows, Fisher Windows can help. We are the leading window replacement window company in Boston, MA, and have been providing window replacement services for many years. We are aware of and carry, all the windows, window sashes and frames, and replacement glass that are available in the market, as well as our experts, will let you know which window is best for you.
Why You Need Boston, MA Replacement Windows
Are you confused that why you would need our replacement window services in your Boston, MA community? You might be wondering why since your window is in excellent condition, why you should our window replacement services. Here are some of the reasons why window replacement is important, now, for your house.
The weather in Boston, MA is very unpredictable. You cannot trust the weather because it will be sunny one minute and the next minute you will have wind and rain. This is the reason that if you have Boston, MA wood windows, there is some chance that it has been already damaged. You are unable to see the damage because of the paint that is blocking the view. Once our experts examine the windows they will confirm whether they are in the excellent condition you thought.
People that have gardens in their homes have a high probability of attacks from fungus and moss. However, they are unable to identify these attacks because most of the time it will not change the color or exterior appearance of the window as the paint masks the condition. However, it is a very dangerous condition because the moss can enter your house and be hard to remove. It can lead to many dangerous diseases, which seem more prevalent today than ever. It is better that you change the Andersen windows in your Boston, MA property as soon as possible so that you will not have to deal with this issue again.
There are many Boston, MA property owners that did not change the Pella windows since they moved into their house thinking that those windows are highly durable. You should know that every material has its own lifespan, which is limited in time, and if you do not change or refresh them in a reasonable period, there are chances that you will not be able to get the results that you have wanted. That is why it is important that you consider our window replacement services; we can tell you if it's time to replace it.
Boston, MA Replacement Windows Can Increase the Value of Your House
There are many individuals that are planning to sell their house, but they are unable to get the price they want, even though their house is in excellent condition. You should know that there is a good chance that if your house is perfect on the inside because you have maintained it properly but there are issues on the outside, you are not likely to get the price that you wanted. The reason is that most buyers will consider the house's exterior first. The most important thing that they will check is the quality of the door and the windows. For Boston, MA homeowners, a new set of Marvin windows will work magic. So, if your windows are not in excellent condition, understand that it is unlikely that you will get the top price for your house.
Most real estate agents suggest that you should get replacement services for the old windows with windows like Harvey Windows for your Boston, MA home, or other quality window replacements that we can provide. They say that when your windows are in perfect condition, most buyers will take their decision from there. They want the best and the house with the best window can provide them with the best protection against the elements, hold up with time, and offer the snug comfort that they have always wanted. This is the reason that there are many homeowners that are looking for the best Boston, MA window company, which is Fisher Windows. They want to buy the best and latest windows. You should know that there are updated energy-efficient windows available now that do an even better job while retaining their beauty. If you can replace your windows with more efficient ones, you can get the best return on your investment if you plan to sell your house.
Easy Clean Windows in Boston, MA Will Be the Perfect Choice
There are many individuals that are confused that when they get window replacement services, and which type of window will be the best for them. They want to know so that they can get the best results. The Energy Star windows for Boston, MA homes will be the best option. Here are some of the reasons why you should consider having easy clean windows.
Energy Star windows have been developed with the latest technology. There is a special material used in the manufacturing of the window that makes it energy efficient. It will help you save a decent amount of money on electricity bills.
There are special insulation materials used in the production of the window. This is because it will help control the temperature of the interior. If there is sunshine and heat outside, it will keep the UV rays out of your house so that you will use the cooling system for less time and save more money. In the same way, energy-efficient windows will also keep the cold outside of your house. Since you will not use the heating and cooling system as often, you will automatically save a decent amount of money.
During the selection of the window for your Boston, MA home, make sure that it has been developed with the easy clean windows technology. It is the special material that is applied to the windows to assure that you can clean them quickly. You will notice that even with a wet cloth you will be able to remove all the stains from the windows. It will help you save time while cleaning the windows, the windows will remain cleaner for longer, and you will not have to pay the cleaning companies for the cleaning services.
We Are Here With the Best Boston, MA Replacement Window Services
We know that you have made up your mind that you are going to get the Boston, MA replacement windows. Do not worry because we are here with our team of experts to provide you with the best and highest-quality services. All our experts have been properly trained and they know how to deal with window replacement tasks effectively. Whether you want vinyl windows or wood windows installed in your home, we will provide you with the best services.
All you have to do is let our experts know the type of services that you want. Once our experts reach your destination they will properly examine and inspect the windows that you already have. It will help them to find out more about the damage that has been done to the windows and how they can replace it. Design is important too and we can show you the latest and the classics that never go out of style for you to select from. Our experts have the latest tools that they will use for the installation of the new windows.
Once your windows have been installed, we will test them properly to see if they are air and weather-tight, so you know that the window replacements you made have been properly replaced. Nothing is left to chance; it can be tested and proven. Once done, we will provide you with some amazing tips that will help to increase the lifespan of your windows so that you will not need replacement services for a very long time.
All our customers are satisfied with the services. They have shared positive reviews about us and that is why we have the highest reputation in the market. You can see many of their comments in reviews. You can consult with our experts regarding replacement window services for your home. We will provide the best, and most affordable, guidance to help you with your window replacement selections.